The final touches are being done on the (yet to be named) device for transferring unleaded fuel from one place to another. This can be used to either transfer fuel from a tank to a gas-can or to another tank. Based on rated specs (fuel filter not included) the Holley Red should transfer 97 GPH of fuel. I suspect this number will be much lower given the two filters in place. There are many pumps available for the transfer of Diesel however I've yet to find a production unit built for unleaded so I decided after someone recommended a regular fuel pump, to build my own.
**Note: Test has not been done to verify that the Holley fuel pump will run in this orientation but there should be enough room to move things around if its not optimal.
First, the container... $19.00 on-line 11"W X 16"H X 5 3/4"D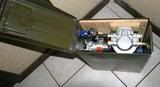 All fits neatly into the ammo can for transportation/storage
The components, mounted on a piece of 1/2 inch plywood and some pine...
starting from the "goesinta" side (left)... Visual fuel flow filter and mesh, into a priming bulb, Holley Red 97 gph hour fuel pump, fuel pressure gauge, fuel filter and water separator with visa-bowl drain, onto the "goesouta" Fuel pump powered by 12V maint free battery.
The yet to be installed 12V switch, mounting plate and of course the fuel lines for in/out.
This setup is not yet tested because of both the switch needing to be installed and the weather... Since I will be doing a live test with a few gallons of gas, I'd like to do this well away from the house when its NOT raining.